WINTER REMINDERS!
Snow Removal: When shoveling or blowing snow from driveways, sidewalk, crosswalks, or parking lots do not move it onto public streets.  According to MN Statute 160.2715 this is a misdemeanor and is subject to a fine.
Do NOT PUSH SNOW ACROSS THE ROAD INTO A NEIGHBOR'S YARD.
Parking Restrictions: No parking is allowed on the streets from November 1st and March 31st between the hours of 2 a.m. and 7 a.m. Those parking on the street are subject to ticketing and/or towing.
Sidewalk /Crosswalk Maintenance: It is the property owner's responsibility to remove snow, ice, and any debris from the sidewalk or any crosswalk that is adjacent to your property.
Mailboxes:  Residents are responsible for removing or clearing snow and ice from the mailbox area to avoid delay in mail delivery.
Garbage and Recycling Containers: Please remember to place these receptacles at the edge of your driveway for collection during the snow season to allow plows to remove the snow all the way to the curb.
PLEASE keep Fire Hydrants clean and clear of snow, this helps save time when its most needed. If a Fire Hydrants is in your yard it is your RESPONSIBILITY to keep it clear.
City of Rice Police Officers at the Wall That Heals 2021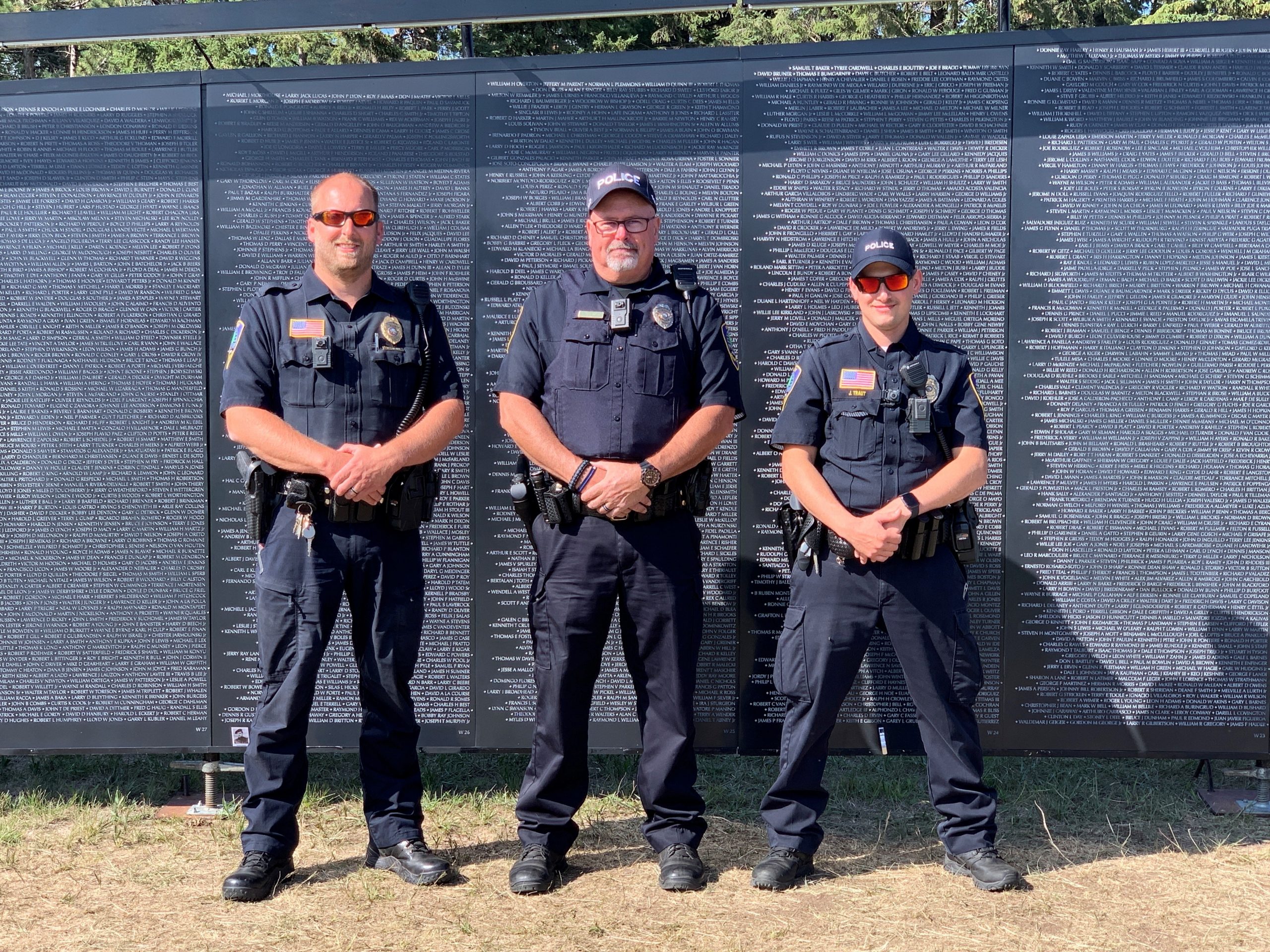 Welcome to the City of Rice!
---
Water/Sewer Payments
Water and sewer bills are due on the 25th of each month. Water/Sewer payments can be made online at  Gov Pay or in the drop-box at City Hall. If you have any questions please call 320-393-2280.
---
COMPOST IS CLOSED FOR THE YEAR, SEE YOU IN THE SPRING
Compost  Open Tuesdays-Thursdays 4-7, Saturday 10-2

MUST HAVE A STICKER
Pick up your sticker at the compost site, Residents of Rice at no cost, outside city limits $40.00,  FIVE BUCKET LIMIT. Please contact City Hall with questions 320-393-2280. NO TREE STUMPS OR GARBAGE.
YOU MUST LOAD AND UNLOAD ON BY YOURSELF
COMPOST CLOSES NOVEMBER 4th, 2021
---
Please DO NOT flush disposable wipes, cloth towels,  or sanitary napkins etc. in the sewer system. This causes an increase in back-ups in the system.  Back –ups result in increased costs and maintenance, and ultimately higher sewer rates. Thank you for your cooperation.
---
Julie Fandel – City Clerk
Phone (320) 393-2280
Fax (320) 393-3180
Email jfandel@ricemn.us.
Bobbi Caster – Office Assistant
Phone (320) 393-2280
Fax (320) 393-3180
Email bcaster@ricemn.us
---
Police Non-Emergency (320) 393-3280
Fire Non-Emergency (320) 393-2180
---
City Hall Address:
205 Main Street E Rice, MN 56367 PO Box 179
---
City of Rice Business Hours
Monday 7 A.M. – 6 P.M. ​
Tues-Thurs 8 A.M. – 4 P.M. ​Friday Closed